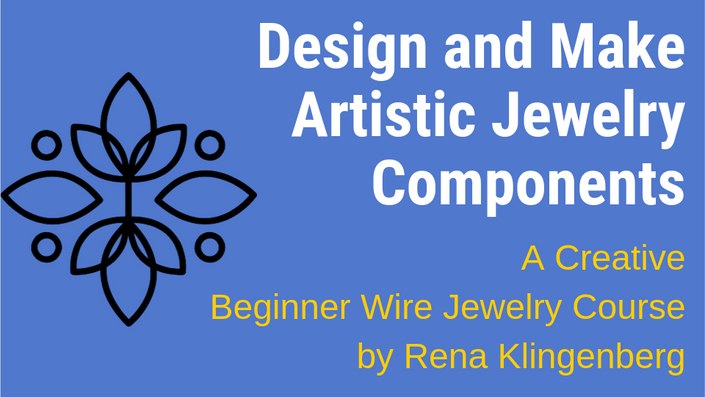 Design and Make Artistic Jewelry Components - Beginner Wire Jewelry Video Course
Learn How to Make Wire Jewelry (and How to Design It!) Creative Course
What Jewelry Artists Say About This Course:
"I recommend this class… you learn the basics and how to develop into creating your own jewelry.
"I know I can do more designing and taking the elements I learned in the class and apply to my jewelry making. I also believe I can design new elements. What I like best is the wire library."

-

eileen lambert
"Absolutely, this class a must for aspiring wire workers to kick their skills up by several notches and produce drool worthy jewellery!!
I am able to actually think of new designs to further my skills and am more confident of my abilities. What I liked best were the clear videos and fantastic verbal instruction by Rena!"

Do You Ever Have These Wire Jewelry Frustrations...?
- What wire should I use - soft, half-hard, hard?
- What wire gauge should I use?
- I never know how much wire to cut.
- My tools scratch and dent my wire.
- How do I get started with wire jewelry?
- Wire is expensive, and I'm afraid of making a mistake with it.
- I don't know how to begin and end.
- What do I do with the scratchy wire ends?
- I don't know how to make my wire jewelry look neat and professional.
- I can't make my wire wraps even.
- My problem is straightening the wire.
- I struggle with making perfect loops.
- I want my wire work to be more even so I can make matching earrings.
- Should I use copper or silver filled wire?
- What's the best way to clean wire jewelry?
- How to bend the wire so I don't have to fix my wrong bends?

No worries - I've got you covered....
You'll get the solutions to ALL of these wire jewelry frustrations - plus lots more wire tips, techniques, projects, and secrets in my wire jewelry video course:

Design and Make Artistic Wire Jewelry Components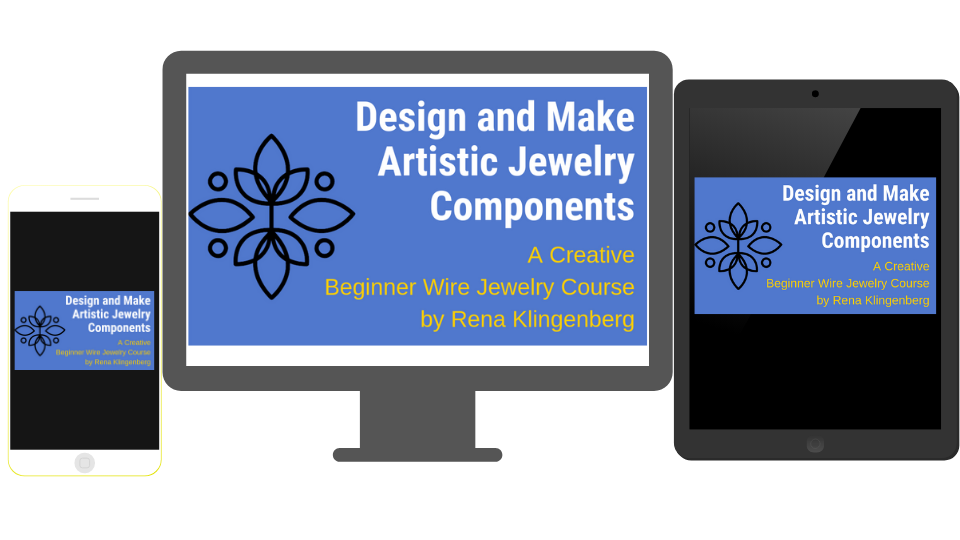 You Can Enjoy This Course on All of Your Devices - Phone, Tablet, and Computer.
This creative, beginner-level wire jewelry course is a fun and easy approach to learning how to make wire jewelry.
And you'll learn more than just how to make wire jewelry. You'll also learn how to design it.
As you go through the hands-on wireworking lessons and projects, you'll also learn how to develop your own ideas for unique wire jewelry components.
And by the end of this course, you'll be designing and making your own artistic earwires, clasps, connectors, and pendant bails.
Course includes 26 videos and 27 helpful PDF downloadable cheat sheets, transcripts, checklists, and forms.
What Students Are Saying About This Course1>
"I absolutely would recommend this class.
It's taken my confidence and skill to the next level and improved my jewelry making efficiency.
I appreciate how much thought and time went into all the details and every aspect.
I will take anything Rena teaches!"

"Rena's way of teaching is so layed back and easy to follow, and I just love all of the tips and tricks she adds to every video.
I have learned so much from this class and can't wait to explore my creativity making more earrings, components, clasps, and pendant bails, in addition to other components that I am sure I can make using these lessons I learned from Rena in this class. Wonderful class, Rena!! Very well worth every penny!!"

Here's What You'll Get in This Course of 26​ Videos​ and 27​ PDF ​​Downloads: This is a self-paced video class that includes​
printable checklists, transcripts, cheat sheets, and more.
PART 1:
Introduction, Wire Techniques, and Tools

- An overview of the information and resources in this class.
- The basics of jewelry wire, plus my personal top 3 wire working success tips.
- The basic tools we'll use in this class, and tips for using them.
- What to do with your wire before you start a project, and how to give the finished component a professional look.
- Download and print the cheat sheets, checklists, and transcripts for Part 1.

PART 1 FORMAT:
Watch: 4 Videos

Download and print:
– 4 Video Transcripts
– 1 Wire Cheat Sheet
– 1 Wire Jewelry Checklist
– 1 Wire Jewelry Cleaner Recipe


PART 2:
The Wire Shapes Library

-The importance of shapes in wire jewelry components.
- 35 shapes – "building blocks" – that can be used in wire jewelry.
- How to make each of these wire shapes.
- How to find and add more shapes to your Wire Shapes Library.
- Download and print the Wire Shapes Library and transcripts for Part 2.

PART 2 FORMAT:

Watch: 7 Videos

Download and print:
– 2 Video Transcripts
– The Wire Shapes Library
PART 3:
Artistic Jewelry Component Tutorials

-In a series of eight project tutorials, turn some of the shapes from our Wire Shapes Library into useful, artistic jewelry components.
- Brainstorm a variety of creative ways to use each of these jewelry components.
- Use cheat sheets and measuring templates for making these projects.
- Download and print these eight project cheat sheets.

PART 3 FORMAT:

Watch: 9 Videos

Download and print:
– 1 Video Transcript
– 8 Project Cheat Sheets & Measuring Templates
PART 4:
How to Design Artistic Jewelry Components

-Six timeless design concepts, and examples of them in actual wire jewelry components.
- Ten ways to develop your own artistic jewelry component designs – plus how to make them stand out from manufactured components.
- An assignment to develop your own jewelry component design.
- How to go from sketch to finished jewelry component, plus how to make your own useful cheat sheet.
- Make the bonus tutorial project, and learn additional tips for jewelry design cheat sheets.
- Download and print the cheat sheets, checklists, and transcripts for Part 4.

PART 4 FORMAT:

Watch: 6 Videos

Download and print:
– 6 Video Transcripts
– 1 Wire Jewelry Design Cheat Sheet
– 1 Wire Jewelry Design Checklist.
If You Think You're Not Creative,
​and That You Can Only​
Make Jewelry Designs​
That Someone Teaches You…
. . . this system is perfect for you.
In this course I'm giving you a library of 35 wire shapes, and teaching you how to make them.
Then I'll show you how to mix and match these shapes to create an infinite variety of jewelry components.
Then we'll go beyond the Wire Shapes Library.
We'll learn how to find (or dream up) other shapes, plus how to include them in your jewelry components.
This wire jewelry class will teach you how to design from your own creativity – even if you didn't think that was possible for you.
You'll Also Grow a Notebook That's Filled with Valuable Reference Materials...

I've included 27 PDF downloads – cheat sheets, checklists, forms, and transcripts.
By the time you finish this course, you'll have everything you've learned in a handy notebook that you can easily refer to.
And you don't need to take notes in this class – just print the transcripts and enjoy watching the videos.
Hear what a beginner wire jewelry artist says about this course:
"It has great advice for the beginner on how to establish and grasp the basic concepts of wire work that then allows for future development with a sound foundation to grow from.
"I am an absolute beginner at wire working so I hoped the class would not be too limited in helping me get started.
I would recommend this course because it is well structured and logical

Hear what an experienced wire jewelry artist says about this course:
"Having worked with wire awhile, I wondered if the class might be too simple. I was SOO wrong. I learned something in each video.
My ideas for designs are much clearer and focused now. What I liked best was learning to combine elements of the components to create new ones.
I highly recommend this class for any wireworker who wants to make the jump from following tutorials to designing their own jewelry.
I really enjoyed the class. The cheat sheets and video transcripts really make your classes stand out from the crowd.
Count me in for any future classes!

Your Instructor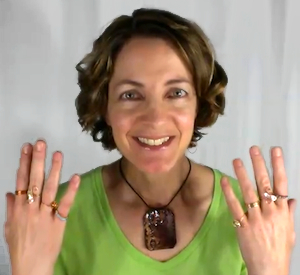 I'm Rena Klingenberg – jewelry artist, author, online jewelry teacher – and the founder and publisher of Jewelry Making Journal.
And I love handmade jewelry!
One area of my expertise is wire jewelry. I've been a wire jewelry artist for over 20 years.

Another area of my expertise is selling handmade jewelry.
Over the years I've sold my work in nearly every way imaginable – shows, parties, consignment, private showings, my website, wholesale, sales reps, distributors, eBay, trunk shows, fundraiser shows, etc.
My natural way of doing things is to simplify everything.
I cut out the clutter and distill everything down to simple steps and tools.
And I teach you how to quickly get professional, profitable results when you're selling your jewelry.
I believe that making and selling jewelry should be fun and do-able for everyone.
So let's get started! :)

Frequently Asked Questions
When does the course start and finish?
The course starts now and never ends! It is a completely self-paced online course - you decide when you start and when you finish.
How long do I have access to the course?
How does lifetime access sound? After enrolling, you have unlimited access to this course for as long as you like - across any and all devices you own.
What if I am unhappy with the course?
We would never want you to be unhappy! If you are unsatisfied with your purchase, contact us in the first 30 days and we will give you a full refund.